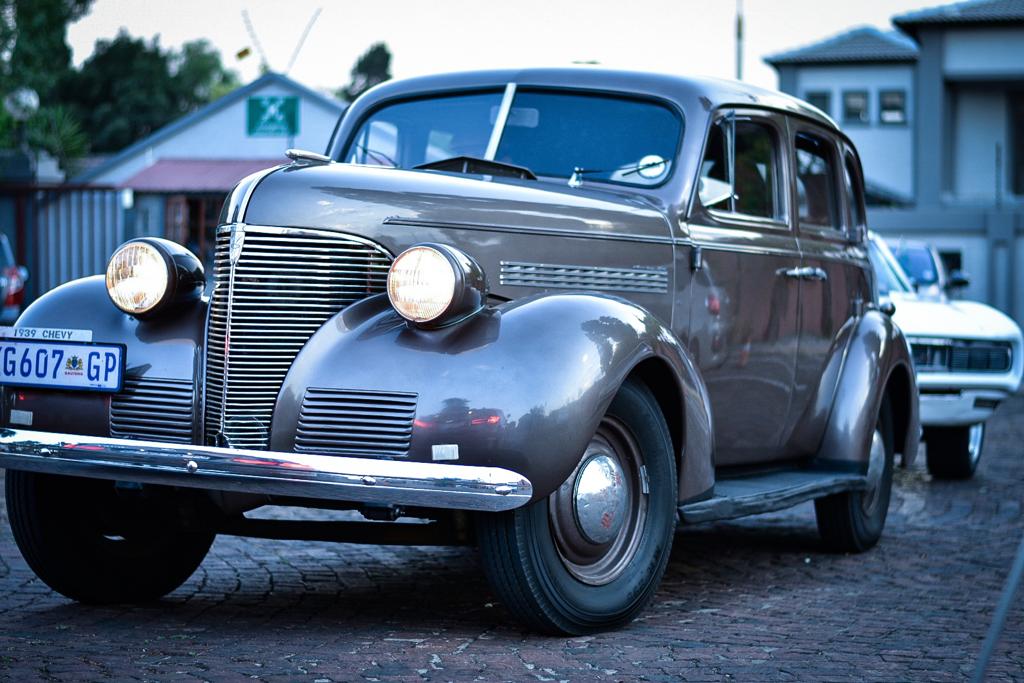 About
It is a 1939 Chevrolet original owner was a Major of Bloemfontein who bought the car in 1939. The car is in a very good condition and runs well.
Reviews
4.9 out of 5 stars
16 passenger reviews
Excellent and very friendly service received from Dries. Thank you kindly.
Thanks so much for helping us at the very last minute. It was a plesure driving to my wedding day in the car.
Both the old vintage and Dries the owner were such a joy and I will recommend both to anyone who would like to add some class and love to a party. On time and super, super, super!
Dries arrived early, car was perfect and Dries is amazing. Not only did he deliver an element that made the wedding perfect. He is an absolute joy to have around. Super friendly and extremely accomodating. Dries, you were amazing! We highly recommend Dries and this awesome car! Thank you Dries!
So n bakgat mens en uitstekende rit. Sal beslis dit weer doen
Roy's 75th Birthday Ride -15/5
Our compliments to Dries, what an absolute gentleman he is. His big smile & charming manner together with his vast knowledge of his classic car, "Mathilda" & the sights of PTA, assured us of the most memorable ride! Our sincere gratitude to Dries & wishing him many more years of spreading joy.
You made our wedding day so special! We loved working with you and will happily serve as a reference for your future clients.
Best Service Ever,Dries & Team
Dear Dries, I wanted to thank you for the wonderful, relaxing service you provided for my daughter & her partner. I appreciate you being there an hour earlier, allowing us to view the car before the event, your professionalism, friendliness and the clean beautiful vintage car. Your happy client.
Dries did an excellent job of making the experience memorable and I will recommend him and hi scar any day.
Thank you Dries for making the event memorable for my Daughter with a beautiful vehicle
Thank you Dries for chauffeuring our son and his girlfriend to their matric farewell/ photoshoot. I must say you are an exhalent chauffer and of course a very nice person to have a conversation with. Their were so exited when you arrived with your 1939 Chevrolet Master 85.
Dries arrived early and was so patient as he waited for my daughter to get ready. They really enjoyed the ride. Dries was friendly and really accommodating. A lovely experience for 2 young people. Made the day extra special. Thank you.
Dries made it truly an experience. The Chevy was old world charm at its best
Efficient service excellence!
Dries accommodated us despite the fact that the sponsors of the booking unfortunately got the date wrong, which we discovered 3 hours before the event! He immediately took control, arrived on time and ensured that after a horrendous year my son would have great memories of his 2020 Matric farewell!
What a ride ! Thank you to Dries (owner) and Mathilda (the Chev) for making our event an event to remember and treasure. Dries and Mathilda were on time, Dries dressed for the part and Mathilda in immaculate condition. She is beautiful, well maintained, like new and and shining, ready for action.
Thanks for making my son's day
Selecting a car such as this for a special event such as a matric dinner for the first time can be scary! But I am so excited to have chosen classic-rides! And Dries you are an amazing driver/chaufeur/host! Josh your feedback along the process ready made us comfortable and Dries THANK YOU VERY MUCH!