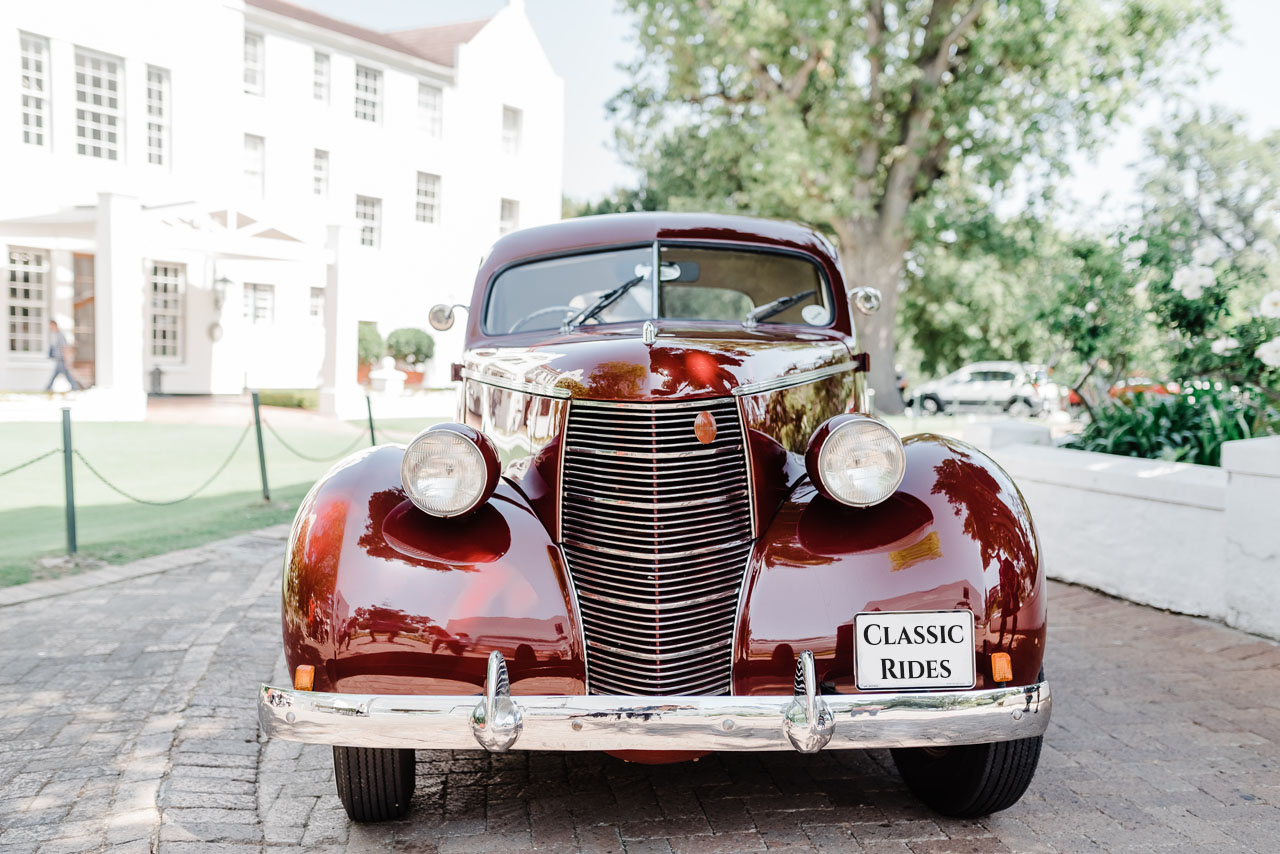 Posted on: April 16, 2020, 4:35 p.m.
Hiring a classic car can seem like a daunting task at first. The cars on our website are one-of-a-kind vehicles, and so they are typically hired for once-in-a-lifetime events such as weddings, Matric balls and milestone birthdays/anniversaries. This means for most of you, this will be your first time hiring a classic car. And with such a wide range of vehicles originating from different eras (spanning nearly 90 years!) and all parts of the world, knowing where to start is made even trickier.
This post aims to get you well on the road to finding the ideal chauffeured classic car by using the Classic Rides booking platform (if you're looking for vintage car tours, we recommend you click here). Whether you're a first-timer or return customer this quick guide will be sure to make your search far easier while also teaching you a thing or two about classic car hire.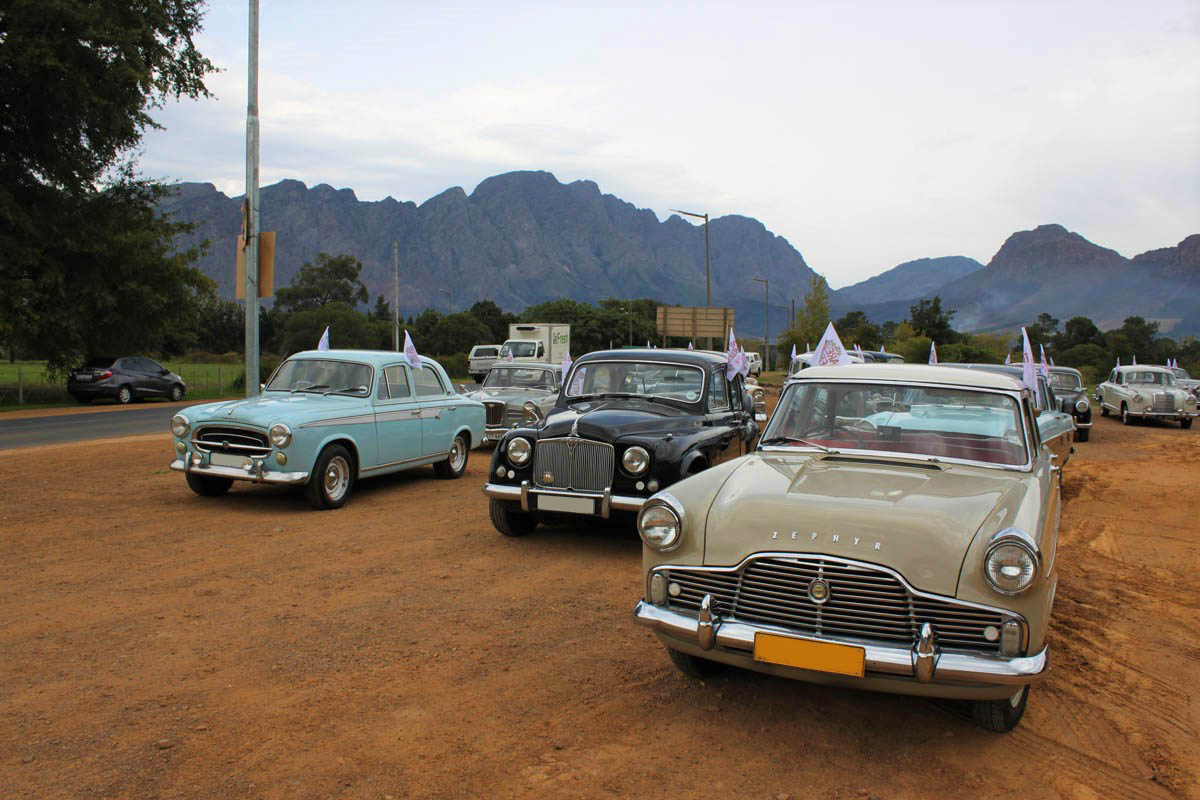 With so many options, choosing one can seem a little scary at first
How it works
To get going, remember that Classic Rides connects you with a network of independent classic car owners (we call them, rather unimaginatively; Owners). This enables more affordable prices and a bigger variety of vehicles than if we owned the cars ourselves. In addition to helping you find a car, we're also there to make sure you're satisfied and that your deposit is safe (your deposit is only transferred to the Owner after a job is completed).
This means that the booking process must begin with a request to check if the Owner and his vehicle are available for your event. If a car has a prior booking or if the Owner has blocked it off for a specific date, you will not be able to book it on that date. But submitting a request is important as it gives the owner a chance to check if his/her standard pricing is applicable and whether there are any dirt roads or steep hills that he/she might not want to take the classic car on.
All requests need to first be approved by the vehicle's Owner
Once the owner responds to your request you will receive an email to notify you of this. As mentioned above the Owner may increase the price if there is more driving than usual involved or decrease it if you requested a fee reduction.
If the owner accepts your request, you will be sent our banking details to make a minimum 50% deposit. This 50% deposit is required to secure the car for your date. Without a deposit we cannot hold the car for you and it may be booked by someone else for the same date.
Once you've paid the deposit and sent proof of payment as instructed, we'll send you a mail to confirm your booking and share the Owner's contact details. At this point we'll have sent the Owner all the necessary information, so the Owner's contact details are there just in case you want to make last minute changes or check on his/her progress on the day of the event.
You can always check the progress of a booking, make changes to it or cancel it via your booking page. The link to your booking page will be emailed to you when you submit your initial request and in all subsequent mails to you regarding your booking.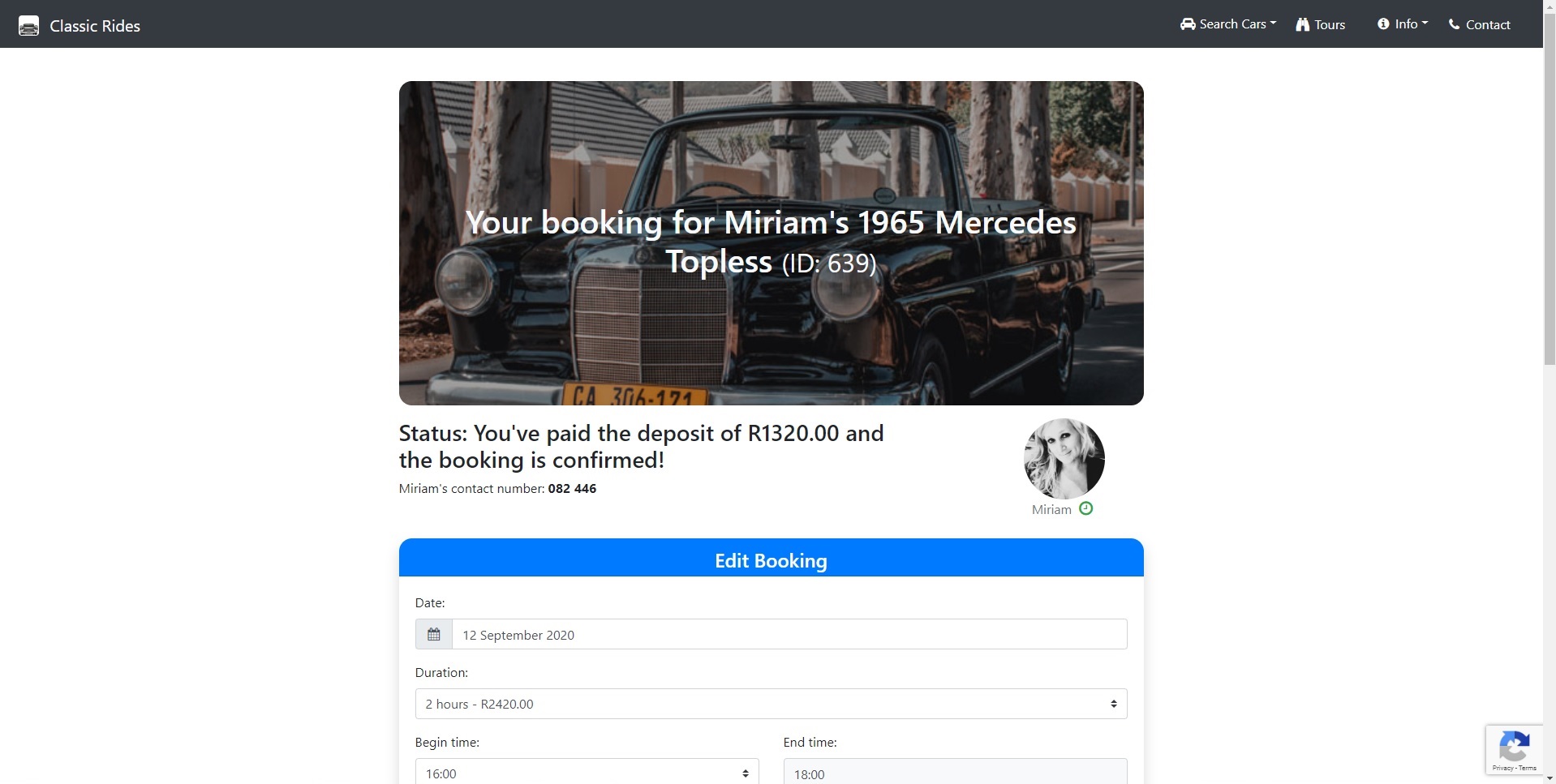 You can make changes to your booking at any stage via your booking page
Next up is to pay the balance, this can be done up to 48 hours before the event. Make sure to pay before this or your booking could be cancelled.
If you're worried about your booking going overtime, we recommend booking the overtime up front. This saves the Owner having to bother you about overtime payment on your special day and if you don't go overtime, we'll refund you the excess.
Start Searching
Searching for a car with us is easy. The first step is to choose your nearest town or city and then the date of your event. This can be done on our homepage, on the search pages and via the main menu at the top of the page.
If you already have your mind set on something specific, you can also search by categories. Perhaps you want a Kombi, a Mustang, or luxury vintage vehicle. You can even search by event type, such as weddings and Matric balls: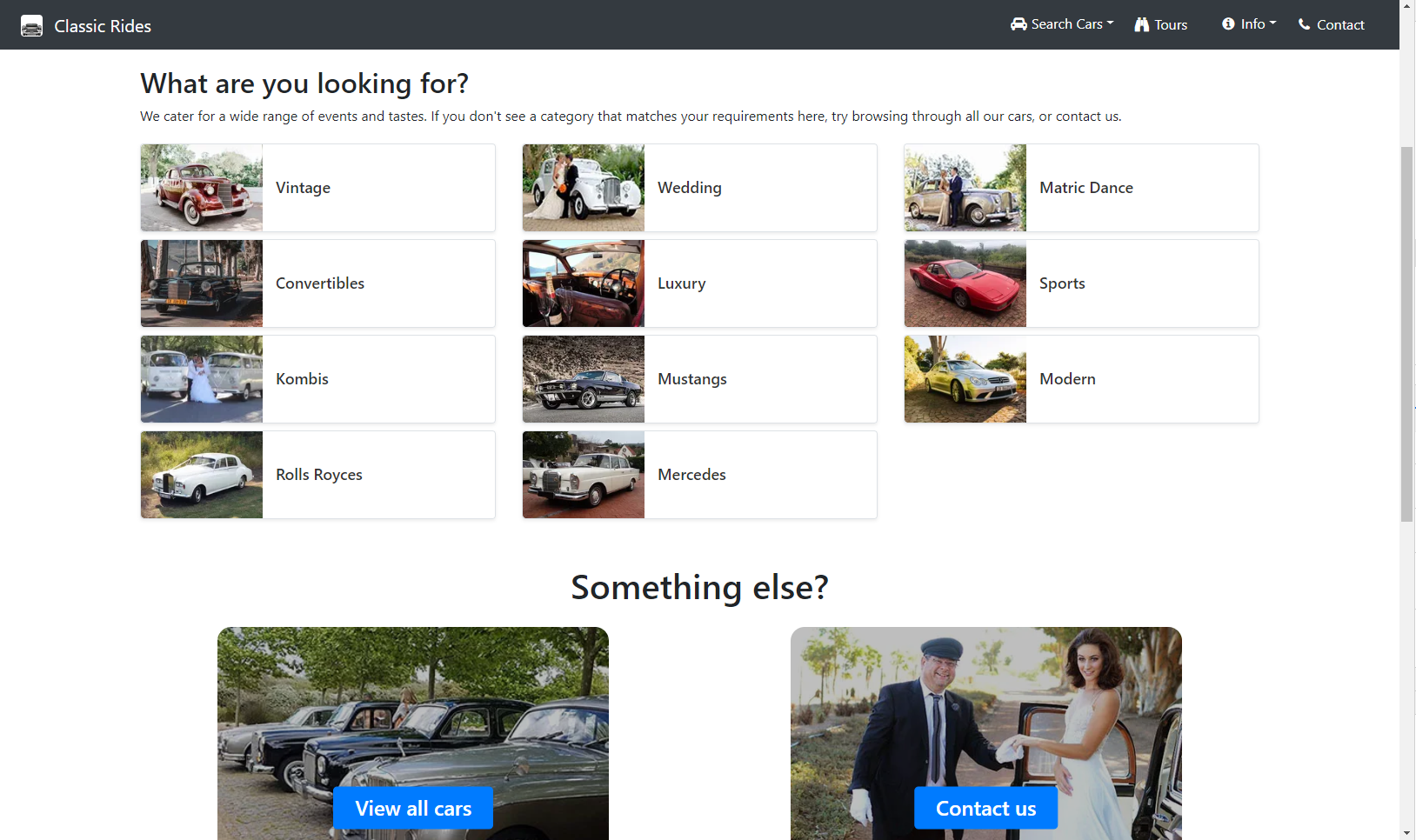 Categories are great for narrowing your search to your specific needs
By now you should be on the search page for your town or city. Here you can get a summary of all the cars available in your area and for your date (if you have entered it). If you want to compare pricing, set the Event Type and Duration in the search area: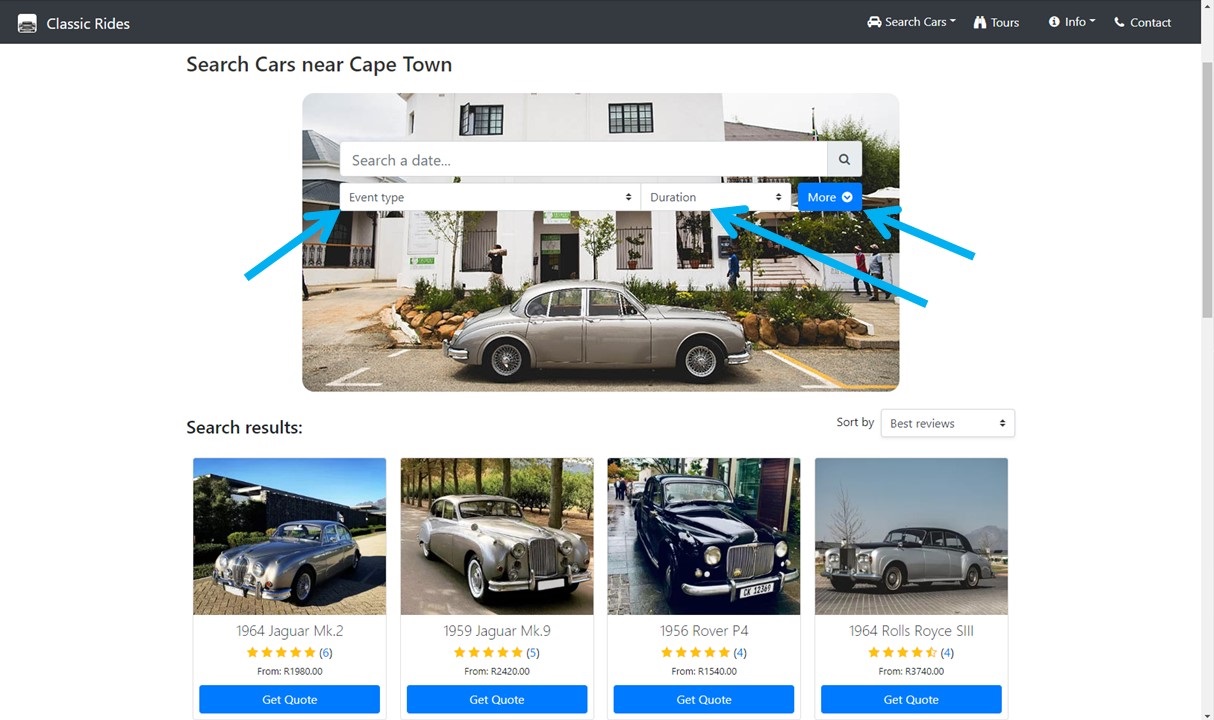 The Event Type and Duration fields are easy to find
You can also expand the search capabilities by clicking the More button. This will enable you to search for vehicles of a specific year or model name as well as for cars with a certain amount of doors or passenger capacity.
By default, cars are sorted first by the best reviews and then by pricing. If pricing is more of a concern, you can order the cars by pricing rather: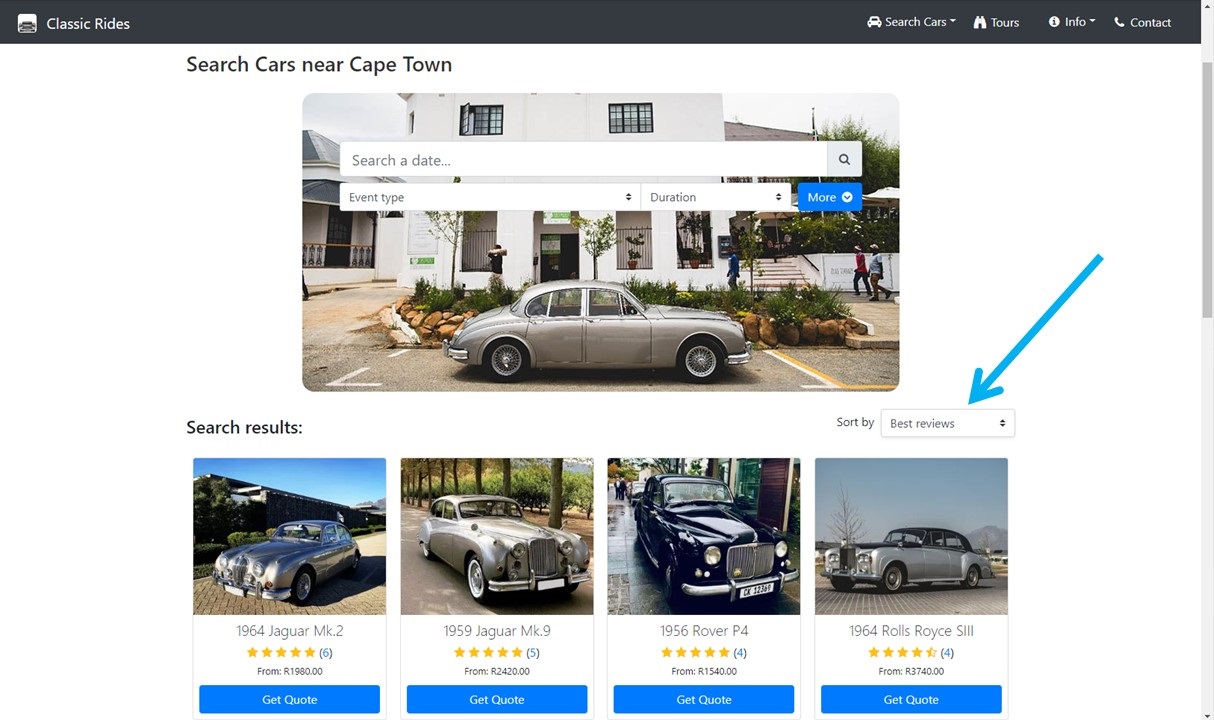 The sorting button can be found just above the search results
If you're interested in a car, click on its photo to visit its webpage where you can view all the details on the car, such as more photos, reviews and its history. You can also submit a booking request for the car on this page. You'll notice that the booking form will quote you a price as you begin to fill it out.
Find the Perfect Car
By now you should have a good idea of how the booking process works and how to effectively use our vintage car search engine. Now to put it to use!
Ready to find the best vintage car for YOU?
The car you want depends heavily on the event and your dress code. For example; in a traditional 'white' wedding you would want a black or white car to go with the black and white of the bride and groom. The best place to search for a white or black car would be in the weddings category. When you are trying to match an event's theme, ask yourself: what are the colours and era associated with the theme and what will I and the other passengers be wearing? Once you know this you can search for a similarly coloured vehicle from the same era (for example, searching for "194" on the Search page would show all the cars from the 1940s).
A classic car and matching dress look simply incredible
Once you've narrowed down the options there's a couple more things you should consider. Will one of the passengers be wearing a large dress? If so, choose a car with large doors and a spacious back seat.
"Suicide doors" are a fantastic option for large dresses
If you're looking for a convertible, remember that the open top can easily ruffle up neatly combed hair at high speed. And if considering a Coupe (2-door), keep in mind that it will be a bit trickier for anyone sitting in the back seat to get out.
One last thing to remember is that no smoking is allowed in any of the cars. If you're wanting to drink in the car you will need to ask the Owner's permission while keeping in mind that it is illegal to drink alcohol in public in South Africa.
The Earlier the Better
Our final tip is don't leave booking a classic car until the last minute. All the vehicles on our website are unique, so if it gets booked by someone else on the same day of your event, we won't be able to get you the identical car. This is especially important for events occurring during peak times (summer for weddings and March, April & September for Matric balls). You'll also save money by booking a car earlier as the most affordable cars are often booked first.
Well that's it! You're all set to start the search for the ideal classic car for your event and we hope you've also a little bit excited now. Remember, if you ever need help or have any questions, please contact us, we're here to help
Additional reading...